Promo 220 – The GREAT Return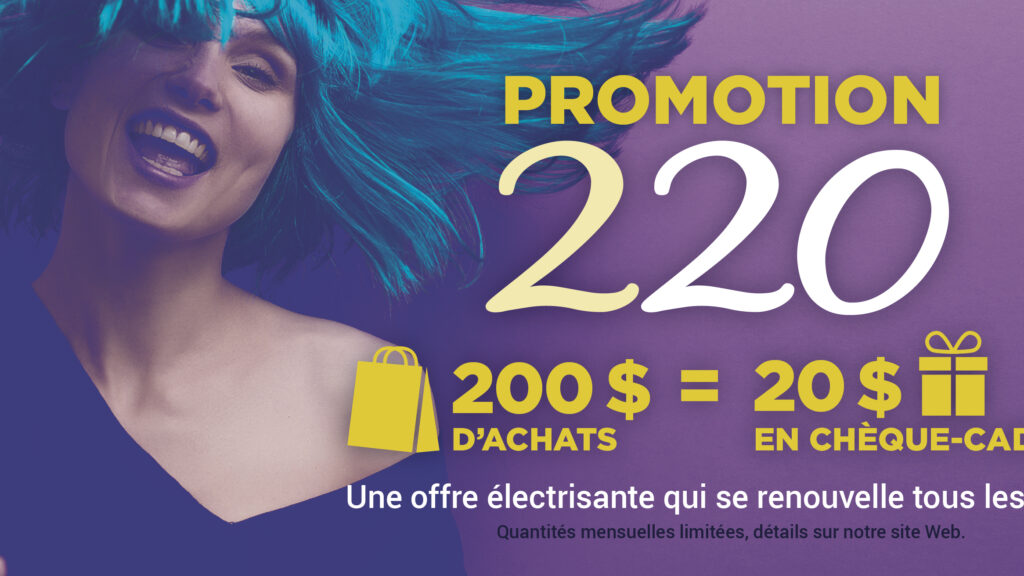 Promotion Rules
October 1st, 2020 – December 31st, 2020
The Promotion 220 begins on October 1th, 2020 and ends when all on December 31st, 2020.
On the 1st day of each month an allotment of $20 Gift Certificate prizes will be available to promotional participants for that month on a first serve basis. When all gift certificates are claimed the promotion will be suspended until the first day of the next month.
Each Promenades du Cuivre receipt of $25 or more (tax incl) dated between the first and the last day of the current month, will be eligible for participation for the current month of the promotion.
An accumulation of Promenades du Cuivre purchase receipts that amount to $200 or more (tax incl.) may be validated at the Promotions Kiosk, every day Sunday to Saturday 12h to 17h, to receive $20 in Promenades du Cuivre Gift Certificate, no matter what the total of receipt over the required $200 is.
Gift certificates are valid until the last day of the next month issue and have no cash value.
The purchase of gift cards or layaways are not considered an eligible purchase.
This promotion is open to everyone over 18 years of age. With the exception of any and all employees of any tenant, store, service or occupant of the Promenades du Cuivre, their immediate families and all Plaza Group Management Limited employees and their immediate families.
Each participant must present valid photo identification with proof of residency, may only register their own purchases and may not transfer receipts to another person to obtain a gift certificate.
Participants agree to all ''Promo 220'' promotion's rules by way of participating.
All decision relating to this promotion are to be made by the Promenades du Cuivre and shall be considered as final. By participating in the promotion, the participant agrees to allow the use of his/her name and photograph, without payment, in any forthcoming publicity. The Promenades du Cuivre reserves the right to discontinue or adjust rules of this promotion at any time, including implementing a daily cap on the number of GC's given away per day.